UK GLASS BALUSTRADE REGULATIONS
Glass balustrades, in particular, base shoe frameless glass balustrades and point fixing frame glass balustrades, are a popular use of structural glazing to provide protection against level changes in an architectural design. The advantage of using glass for such a barrier means that it is completely transparent and clear, minimizing the disruption of views from inside the building and also minimizing the impact of the barrier's existence on the design of the building. When specifying a glass balustrade on a project, there are various things to consider to ensure that you specify a balustrade that is both strong and safe.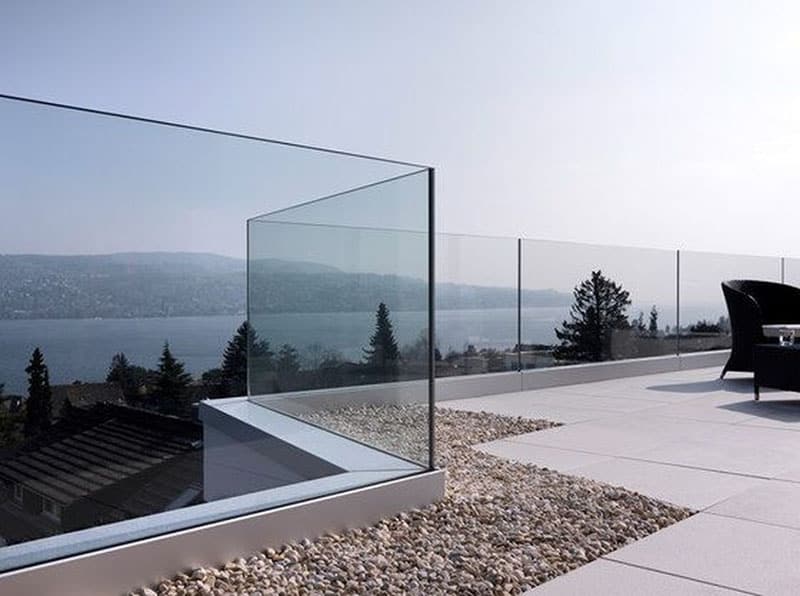 Where is a Balustrade Required?
The Building Regulations [B1] in the United Kingdom incorporate requirements to provide barriers when it is necessary to protect people in and about buildings from falling. Popular applications for a structural glass balustrade would be a:
ㆍstairs
ㆍramp
ㆍfloor edge
ㆍbalconies
ㆍterrace
ㆍedges of rooftop
Height Requirements of Glass Balustrades
Heights of glass balustrade- there are various applications concerning the minimum height of the balustrade as determined by Occupancy Class.
---
Single family dwelling
Barriers in front of a window 800mm
Stairs, landings, ramps, edges of internal floors 900mm
External balconies, edges of roofs 1100mm
---
All other uses
Barriers in front of a window 800mm
Stairs 900mm
Other positions 1100mm
Balconies and stands, etc. having fixed seating within 530mm of the barrier 800mm
---
Commercial, assembly and retail spaces have different height requirements for their railings. The purpose of these height requirements is to ensure that the balustrade provides adequate protection against changes in level given the likely traffic and use of the space.
Design Load of Glass Balustrades
First an explanation of the terminology.
Line Load -a horizontal force at the top of the balustrade. Intended to mimic the force of a person leaning on the top of the balustrade. It is measured in kN/m and loading requirements are given be EN 1991-1. The deflection does not exceed L/65 or 25 mm
Uniform Distributed Load (UDL)– is related to the pressure exerted on the infill area (that part of the barrier below the position of application of the line load). It is generally given in the form of kN/m2, applied over the entire infill area.
Point Load (Concentrated Load)-takes into account any non-uniformity of the load applied to the infill and may also represent a static equivalent to a localised human impact (from hand, knee, elbow, etc.). It is generally given in the form of kN, applied at the most vulnerable position on the infill area.
Applicable Regulations and Standards
Eurocode EN 1991-1-1 Part 1-1 General Actions – Densities, self-weight and imposed loads
Eurocode EN 1991-1-4 Part 1-4 General Actions – Wind actions
BS 6180: 2011 Barriers in and about buildings – Code of Practice
EN 12600 Glass in building – Pendulum test – Impact test method and classification for flat glass
BS 6262-4: Glazing for building – Part 4: Safety Related to Human Impact – Code of Safety
BS 6262-6: Glazing for building – Part 6: Code of practice for special applications
Glass Balustrade Types
The Code of Practice lists 7 distinct protective glazed barrier types:
• Fully framed
• Two-edged framed
• Bolt fixed
• Free standing – continuous clamp